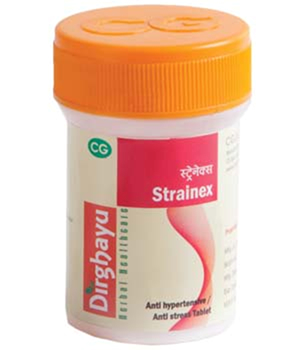 A complete brain stimulator "Empower brain without stress"
Strainex empower with several herbs for enhancing neurological functions in individual with neurodegenerative disorders. This also improves memory, cognitive functions, mental functions, memory span, concentration ability and reduce stress. Strainex contains ingredients traditionally known as MedhyaRasayna which have been used since ancient times .
For paediatric patients, Strainex helps correcting disorders such as dyslexia and hyperkinesis. As a daily health supplement, Strainex immense benefit for students, working people, professionals & elderly people with associated memory weakness.
Benefits:
Effective in anxiety neurosis

Improves concentration ability

Helps in neurodegenerative disorders

Corrects insomnia and Drugs addition

Normalize Hypertension
Ingredients (Each tablet contains)
Aswagandha (Withenia somnifera) 100mg
Bramhi (Centella asiatica) 100mg
Shankhpushpi (Convolvulus pluricaulis) 100mg
Jatamansi (Nardostachys jatamansi) 40mg
Vacha (Acorus calamus ) 40mg
Sarpagandha (Rauwolfia serpentina) 40mg
Sudha guggulu 40mg
Arjuna ( Terminalia arjuna ) 40mg
Indications: Cognitive dysfunction, Decreased vigilance, Lack of concentration, Loss of memory, Insomnia and drug addiction.
Dosage: Children: 1 Tablet twice daily Adults: 2 Tablets twice daily or as directed by the physician.
Presentation: Bottle of 60 Tablets.