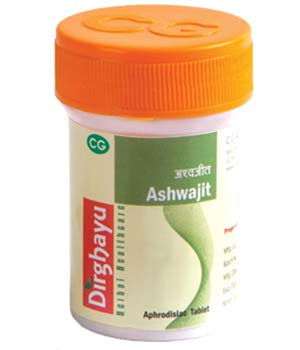 The Right Partner for Right Performance
Due to mental stress, tension and physical debility, man in the present scenario may find it difficult to enjoy his sexual life. Ashwajit Capsules is a non-hormonal, efficacious and safe aphrodisiac formulation, which increases libido.
Benefits:
Arouses sexual desire.
Improves sexual performance.
Relieves anxiety & boosts confidence.
Ensures satisfactory orgasm.
Ingredients (Each tablet contains)
Aswagandha (Withenia somnifera ) 90mg
Gokshura( Tribulus terrestris ) 60mg
Kappikacchubeej( Mucuna pruriens ) 60mg
Satavari( Asparagus racemosis ) 60mg
Vidari( Ipomoea digitata ) 60mg
Bala( Sida cardifolia ) 60mg
Su.Shilajit 30mg
SwetaMusali( Aspargus adscendens ) 50mg
Makardhawaja 20mg
Yarsagumba 10mg

Processed in: Shuddha Dattoora beej, Yashtimadhu (Glycyrrhizaglabra), Nagavalli (Piper betle) and Maricha (Piper nigrum).
Indications: Male Sexual Dysfunction like Loss of libido, Premature Ejaculation and Erectile Dysfunction.
Dosage: Two tablets daily with milk two hours before bed time or as directed by the physician.
Presentation: Bottle of 20 tablets.