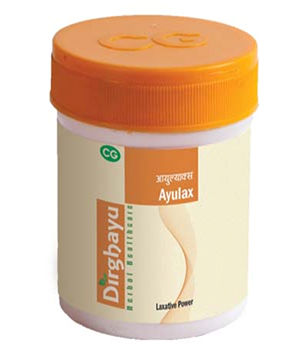 Good morning Laxative
Ayulax is a revolutionary formulation enriched with POWERFUL LAXATIVE HERBS like Isavgol, Trivrit & Saunf. Ayulax gently cleanses, lubricates & moisturizes intestinal walls ensuring regular bowel movements. Trihpol assures smooth evacuation of feces without disturbing fluid-electrolyte balance.

Benefits:
Natural remedy in chronic constipation.
Removes acidity, gas, headache and mouth ulcer.
Ingredients (Each 3gm contains)
Isavgol (Plantago ovata) 1 g
Trivrit (Operculina turpenthum) 1 g
Yastimadhu (Glycyrrhiza glabra) 500 mg
Madhurika (Foericulum vulgare) 500 mg

Indications: Acute sporadic constipations Constipations associated with hemorrhoids, Irritable Bowel syndrome.
Dosage: 1-2 tsf with Luke warm water at bet time or as directed by the physician.
Presentation: Bottle of 100gm.