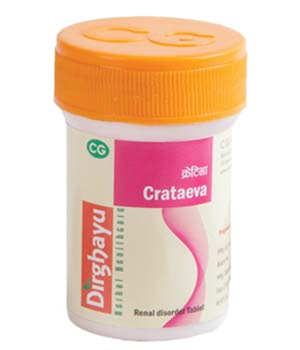 Broad spectrum urinary antiseptic
Crataeva highly effective Ayurvedic remedy -clears urinary tract infection and prevents recurrence. -helps to decongest urethral obstruction. -helps to disintegrate and expel urinary calculi. Relief from nagging symptoms such as –frequent urge to pass urine at night. -dribbling, slowness and difficulty in passing urine. -poor stream and feeling of incomplete voiding. - burning micturition. Exerts diuretic and antiseptic action, brings about decongestion and soothing effect on the inflamed mucous membrane of the urinogenital
tract.

Benefits:
Naturally reduces UTI pain
Safe, corrective & preventive management in urinary stones
Ingredients (Each tablet contains)
Punarnawa (Boerhavia diffusa) 100mg
Varuna (Crataeva religiosa) 50mg
Gokshura (Tribulus teriestris) 50mg
SwetaChandan (Satalum album) 50mg
Khas (Andropogon muricates) 50mg
Apamarga (Achyranthus aspera ) 50mg
Chandraprabha vati 150mg

Indications: Urinary tract infections (UTI), Urethritis, Burning micturition, Crystalluria, Renal and Urinary calculi, Cystitis, BPH.
Dosage: 2 tablets twice daily.
BPH : Two tablets twice daily for 2 weeks. One tablet twice daily for 6 weeks.
Presentation: Bottle of 60 tablets.