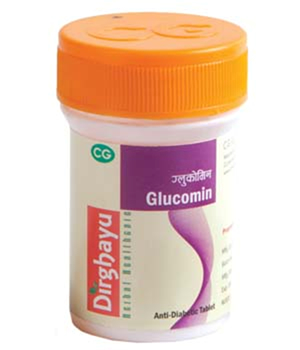 Controls Sugar, Retains the Sweetness of Life.
Diabetes mellitus is the most common endocrine disease characterised by metabolic abnormalities and by long term complications involving eyes, kidneys, nerves and blood vessels. In DM intermediary metabolism of carbohydrates, fats and proteins is affected.
Glucomin tablet is a comprehensive formulation in the management of Non Insulin Dependent Diabetes Mellitus (NIDDM).
Benefits:
Significantly reduces blood sugar levels.
Improves beta cell function.
Corrects dyslipidemia.
Minimises risk of diabetic complications.
Ingredients (Each tablet contains)
Each coated tablet contains:
Giloya (Tinospora cordifolia) 60mg
Jambubeej (Syzygium cumini) 60mg
Gurmar (Gymneama selvestre) 60mg
Karela (Momordica chirantia ) 60mg
VilwaPatra (Aegele marmelos) 60mg
Chiraita (Swertia chirata) 50mg
Haridra (Curauma longa) 30mg
Daruharidra (Berberis aristata) 50mg
SudhaShilajit (Asphaltum) 20mg
Punarnawa (Boerhavia diffusa) 50mg

Indications: Non Insulin Dependent Diabetes Mellitus (NIDDM)
Dosage: Two Tablets twice daily before meals as a monotherapy. One Tablet twice daily before meals as a co-therapy with other anti-diabetic agents in NIDDM or as directed by the physician.
Presentation: Bottle of 60 Tablets.